his photo of Forrest Bess dates from 1951-52. He is holding Molly Heubner's Chihuahua. Molly was an early mentor of Forrest's and the wife of John Heubner; theirs was a prominent family in Bay City and Matagorda County. Molly lived mostly in Houston after their children were grown and commuted occasionally to Bay City.
In 1951-52, I worked for Molly in Houston publishing a weekly folder called "You're in Houston." She owned properties in the Montrose section; one was an up/down duplex where I lived upstairs and Forrest lived in a rickety garage apartment in the back for a year or more, when he was in Houston, which was frequently. In that timeframe, Forrest was a perfectly nice, congenial guy and fun to talk with. Nothing too bizarre had gotten him by the foot yet. However, he did have a theory about the color pink, that it was highly motivating to people. He had just finished an exhibit where he positioned a painting featuring large blocks of pink right before the entrance to the restrooms and kept a watchful eye on how many people entered the restrooms immediately after viewing that painting. He found his little experiment highly amusing and was certain that it validated his theory.
During this same time, Forrest also had artistic dealings with Lincoln Kirstein, whom he talked about now and then.
Eloise A. Rochelle

Houston
The following was contributed by Chuck Smith, producer and director of "Forrest Bess: Key to the Riddle."
In 1988, I walked into a roomful of paintings that changed my life. It was a 60-painting Forrest Bess retrospective at Hirschl & Adler Gallery in New York. The opportunity to see that many Bess paintings in one place at one time was a very rare occurrence and hasn't happened since, and while I didn't know that then, I could tell that I was in the midst of something weird and wonderful. The paintings were small, striking, and completely unpretentious. Each canvas seemed familiar, though I knew that I had never seen any of the images before. The other odd thing was that I couldn't guess whether they were painted recently or fifty years ago; they seemed timeless. I took the catalogue and went home. From the catalogue I learned that Bess had already been dead for ten years. I also learned that he was a bait shrimp fisherman from Texas, and that he had devised a grand theory involving symbolism, androgyny, and immortality. I wanted to learn more, but I was too busy working.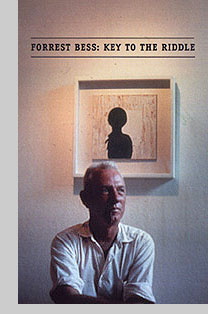 Six years later, I saw the catalogue in my bookshelf and reached for it. There were the paintings again. This time, I was ready to learn more. I visited the Archives of American Art and began reading the letters of Forrest Bess on microfilm. Fortunately, Bess lived in an era when letter writing was crucial for a man who lived in a remote part of Texas. Bess' letters to Betty Parsons, Meyer Shapiro, Carl Jung and others are an amazing peek into the mind of an artist who truly believed that art could save his life. As a filmmaker, I immediately saw Bess' life as a documentary, and quickly planned a trip to Texas to start shooting. My friend, the artist and cinematographer, Ari Marcopoulos, and my wife, the artist and soundwoman Sono Kuwayama, joined me. In Texas, we set out to find every painting we could and to interview as many people who knew Bess as possible. The first thing we noticed was that Bess had a wide range of friends from simple fisherman like Roy Vosloh to well-known artists like Amy Freeman Lee. They were from completely different worlds, but were united in their admiration for Bess and his work. The final film could only include about half of the wide range of people we spoke to. I was sad to leave out a sincere and revelatory interview with Bess' only brother, Milton. I also had to skip a great story that the artist Agnes Martin told of going shopping in New York City with Forrest. It seems their dealer, Betty Parsons, wanted to get Bess out of her hair while she installed his show, so she asked Agnes to take him coat shopping.
We learned a lot more about Bess than any film could contain, but there were also some missed opportunities. Some of Bess' best friends had already passed away, and an audio interview that someone had done with Bess in the 1970s had been borrowed and never returned. And, of course, a full copy of Bess' infamous thesis has yet to surface. But, in the end, a look at a person's life is always selective and it is up to the viewer or reader to figure out who that person was. Forrest Bess left many clues to his existence, and the documentary is a collection of those clues . . . a "key to the riddle."
---
Forrest Bess: Key to the Riddle is distributed by and can be ordered from the Checkerboard Film Foundation. To view a preview clip, visit Chuck Smith's Forrest Bess YouTube page.

"Narrated by actors Ruth Maleczech and Willem Dafoe (the voiceover for Bess), this video skillfully interweaves interviews with those who knew the artist; commentaries by scholars and curators; film footage; stills; and Bess' own writing. This documentary does a superb job of describing how this outsider from Texas achieved insider status in the New York art scene."—Library Journal, March 2002



The following was written by Jim Scarbrough, whose family owned a cabin in Chinquapin, near Forrest Bess's home.
| | |
| --- | --- |
| | Bess at home in his kitchen, late 1940s |

y memories of Forrest Bess go back to when I was four to five years old in the late forties. My parents, Jack (step-dad) and Naomi (mother) Akridge, had a cabin in Chinquapin (total population of two, Forrest being one of the two), right on the Intercoastal Canal near Forrest's home. Chinquapin lies between Sargent and Matagorda across the canal from East Matagorda Bay. My parents fished and shrimped there frequently and from day one bought their bait from Forrest. This is how they met in the first place. From then on, their friendship grew until Forrest passed away.

We lived in Pasadena, Texas where my step-dad owned a plumbing business. As the friendship grew, Forrest occasionally would visit us at our home. He would sit on the floor with my sister and me and play jacks with us. He always seemed to think a lot of us kids. He liked to discuss his visions and dreams with my family. He once even painted a canvas of a dream that I had discussed with him. However, I never saw it as he sold it soon after it was finished.

Forrest lived alone before and after his parents died and would get very lonely and drank quite a lot, but always had a good sense of humor and was always pleasant to be around. After his dad died, he frequently visited his mother in Bay City until she died. He lived with her for a short time, but I am not familiar with that part of his life. He was seldom seen when he wasn't smoking his pipe. He was always broke and Mom and Dad would loan him money to help out. Forrest would paint a canvas for them now and then and always said he would buy them back some day, however, he never did. He always told my folks not to get rid of the paintings because when he got famous, they would be worth a lot of money. He said then that he knew it would not be in his lifetime. "That's just the way it is with 'great' artists," he'd say.
| | |
| --- | --- |
| Bess's home in Chinquapin | |
I remember him at his bait camp and all the raccoons that would come up there at night. We could feed them right from our hands. Did that many, many times. There were hundreds of coons on that island. His "home" was more of a shack than a house. It was on an island and he had to motorboat back and forth across a bayou that crossed the Intercoastal in order to do business with bait purchasers or to have company or just to go to town. It had a bedroom, a paint room and a kitchen/dining room/living room (more or less all one room). There were no doors between any of the three main rooms. To get to the bathroom, more like an outhouse, he or his company had to go outside the front, and only, door and to the back of the house to get to the commode and shower. It was attached to the house but there was no inside door to get there. The almost flat roof had a wooden deck on it but rather than shingles or composition paper for roofing, there were oyster shells placed on tar for the roofing. I had never seen that before. His house was blown/washed away at least once and he rebuilt it. It may have happened more than once, but I remember only the time when hurricane Carla came through. It took my parents' cabin too, but by that time, they had sold it to someone else.

Forrest caught and sold shrimp to support his artist's lifestyle. He did sell many paintings during his life, but never made enough to support a more normal life. Occasionally, he would have someone help him with the shrimping, but I am sure he was never able to pay them enough to keep them happy. However, he seemed to be happy doing what he did, even when it was just him alone. He liked his privacy. I know he always made me feel welcome when I was there. He always fixed me up with a cane pole and some shrimp to fish in the Intercoastal for redfish. I nearly always caught fish doing that. My mother would always get some shrimp and go to the point and catch some nice flounder.

I know very little about his education except for the fact that he attended several different universities and colleges. He was a very intelligent man and I admired him for that.

My mother kept a scrapbook on him and we kept it after her death until recently. I always knew he was a strange person, but I personally never witnessed some of the negative traits that came up about him after his death. He was a good, caring person as long as I knew him and that's the way I prefer to remember him.
From someone who had a lot of respect for Forrest Bess,

Jim Scarbrough
about forrest bess .::. the paintings .::. articles about bess .::. bess letters .::. personal tributes .::. contact forrestbess.org .::. home